I've posted several items about Afrocubism here and in the newsletter over the past couple of years, but it's worthwhile commenting again about what a remarkable collection of musicians will be assembled on the stage at Luminato on the evening of June 12, for a free concert.
This website has a particular focus on African music, and much of it on West African music; Mali may have some of the greatest musicians on that continent. If I were to try to pick an "all star team" of Malian musicians, it might end up looking like these guys.
Much publicity about this group centres on the story that this group was what Buena Vista Social Club project was originally supposed to be. Certainly that recording project in the 1990's was originally intended to bring together Eliades Ochoa, Djelimady Tounkara and Bassekou Kouyaté. However the quality of this music doesn't need to be tied to the fame of that album. It more than stands on its own merits.
And for those familiar with the Afrocubism CD, their live show is a different — and far more exciting — sound.
A few random personal comments about some of the musicians, and some video clips of their performances with their own bands:
Djelimady Tounkara
One of the best guitarists I've seen, I first saw him in 2002 at the Grassroots Festival in New York State with his Super Rail Band (the band Salif Keita started with in the late 60's/early 70's).
His guitar playing at the festival knocked me out, but I was also impressed with his professionalism. Some organizational problems had delayed the band's set, and so at the scheduled completion time, Banning Eyre of Afropop Worldwide (whose book recounting his time studying guitar with Djelimady in Mali, In Griot Time is highly recommended) urged the audience to call for him to extend his set. Djelimady wouldn't, he said, because he knew how festivals worked and it wasn't fair to the other artists.
For my own sake, I wish he'd played longer, but I was impressed with his principles.
Later that fall, he played some U.S. shows (without Super Rail) in the US; I'd wanted to take in a concert in some American city, but couldn't. I figured I'd catch him the next time he was here.
But the next time for Djelimady was 2010 with Afrocubism. So when they came to North America, I didn't miss this chance, and went to New York City to see the band.
I had the treat of second-row seats right in front of Djelimady (and Banning Eyre was seated right behind me).  Just soaked up those guitar licks, and Djelimady's beaming & looming presence.
Video: Djelimady with Super Rail Band at Grassroots Festival, 2001 (the video quality is poor, but I couldn't resist the location)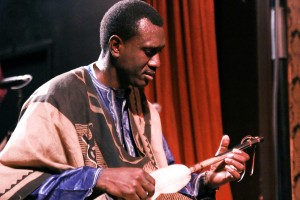 Bassekou Kouyaté
I've posted many items, comments & videos of Bassekou and his group Ngoni Ba in the past.
I really came to love the sound of the n'goni at another American concert the same year as that Grassroots Festival. I saw Salif Keita in at the Irving Plaza club in New York City that October. He had just released his album Moffou, a terrific return to a rootsier, less electric sound.
That night remains the only time I've seen him with an n'goni player (not the more common kamale ngoni), and the driving sound of the n'goni — far more powerful than the guitar in that show — is one of my most vivid memories of that concert.
It's sadly still rare to see touring musicians with n'goni. (For example, I wish Khaira Arby had kept her n'goni player, and cut back on the wailing electric guitars she's now touring with).
All that is to say I love the sound of the n'goni; so when the man who might be the best n'goni player in the world also forms an n'goni band!… it's no surprise that Bassekou is one of my favourite musicians in the world.
Video: Bassekou with N'goni Ba, Royal Albert Hall. Guest: Justin Adams on guitar
Kasse Mady Diabaté
There are those who will debate who has the greatest voice in Mali: Salif Keita or Kasse Mady Diabaté. Who cares? They're both great, and while Salif is a semi-regular visitor here, Kasse Mady appearances are far more rare. This might be his first since his performance at the old Bamboo Club in 1995.
He's a powerful presence on stage with Afrocubism.
Video: (A younger) Kasse Mady, "Kaban Yoro"
Toumani Diabaté
Not much point in trying to write anything more about this great kora master.
Video: One of Toumani's many musical sides. Performing "Cantelowes" from his beautiful solo album, The Mandé Variations
And of course there's Eliades Ochoa, the Cuban guitar great who led the historic Cuban group Cuarteto Patria for many years before becoming a key member of that Buena Vista Social Club recording.
Video: Eliades & his original group, Cuarteto Patria. This isn't a live performance, but I enjoyed his music against the slideshow someone did of scenes from Eliades's hometown Santiago de Cuba. It will resonate for anyone who's been there.
Afrocubism also features Eliades's current band, plus Lassana Diabaté on balafon and talking drum.
For some more information & Afrocubism videos see the ost immediately prior to this one.
Like West African music? You can't miss this show.