A new documentary, AKA Doc Pomus will screen on May 13 at the Bloor Hot Docs Theatre as part of the Toronto Jewish Film Festival. (Screening details here)
I don't know the documentary, but  highly recommend this, based only on what I know of Doc Pomus's life.
Doc grew up as a short, overweight Jewish kid in Brooklyn, whose childhood polio meant he lived life with crutches (and later in a wheelchair). He became a true blues shouter in the Joe Turner style, and later half of the most successful pop music songwriting team in the early to mid-60's ("Save the Last Dance for Me", "This Magic Moment", "Viva Las Vegas", and hundreds more).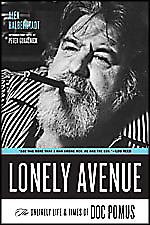 But that, as they say, is just the tip of the iceberg. The 2007 biography of him, Lonely Avenue: The Unlikely Life & Times of Doc Pomus by Alex Halberstadt remains one of the best music books I've ever read.  Halberstadt, in an interview described Doc as "literally the most beloved person I'd ever come across"
I have more about Doc and the biography on this page, originally posted in 2007.
Note:
The Toronto Jewish Film Festival always includes significant musical content. This year's includes a series of films on the theme "The Sound of Movies: Masters of the Film Score"